Another Biomechanical Success Story from Dr Abbie!

Cassandra Hearn of Bangor, who is almost 13 years of age, is quite a miracle child.  She was born three months premature, weighing only 1045 grams with anaemia, necrotising enterocolitis (inflammation of the intestines), hyaline membrane disease and had to be on a ventilator for fourteen days.  She also suffered a grade 4 cerebral haemorrhage and was diagnosed with cerebral palsy. Cassandra spent the first six weeks of her life in intensive care at King George Hospital.
When Cassandra had not attempted to walk by 33 months, the physiotherapist at the Cerebral Palsy Clinic at Miranda referred her to the Dr Abbie Clinic (then AOL Footcare Centre), Kirrawee in November 1992.  They prescribed special orthotics to correct her problems that were a 30 degree outward twist in her right foot and 17 degree outward twist in her left foot.
Cassandra had new orthotics moulded every twelve months to correct these angles gradually as she was growing.  Eight years later Cassandra has improved so much that she is participating in t-ball at school and belongs to the Rainbow Club at Sutherland where she wears a special water aerobics floatation belt for swimming therapy.  She also took speech therapy for twelve months to correct her dyspraxia problem and now speaks with confidence. Her favourite subject at school is English and Cassandra wants to become a writer or librarian when she leaves school.
This wonderful, courageous little girl is well on her way to full recovery.  This is another miraculous case history for the Dr Abbie Clinic.
Before & Afters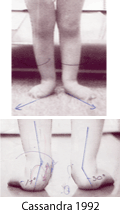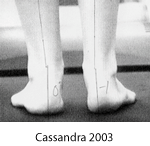 More Before & Afters