Ballet – The Beauty and the Blisters
Dr Abbie Clinics
May 11, 2018
Most young girls have wanted to be one. They have dreamed of theatre lights flooding a misty stage while elegantly pirouetting on pointe, dressed in tiara and tulle, gracefully dancing the Swan Lake or Romeo and Juliette ballet with a divinely handsome man, full with theatre make-up.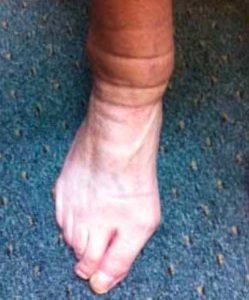 It's a magical thought but the magic gifted ballet dancers deliver comes with blisters, injury and pain – particularly for the girls who ultimately must dance on pointe to be a professional ballerina.
Ballet and all forms of dance not only require artistry but athleticism to achieve the desired effect, putting great strain on their bodies and most importantly from a podiatrists perspective, their feet and lower limbs.
Podiatrist, Laurence Sidari, has treated many young amateur dancers and his advice to these patients is to think carefully before turning professional.
"If you're any good at dancing you're destined to break down sooner or later, especially if you're dancing properly and with the right technique, because then you will be putting your whole heart and body into it," he said.
"That's why I ask most of the girls that see me: are you going to be a ballerina or are you just doing it for fun? They need to be prepared for the consequences. I also tell them that if they're serious, they need to make their podiatrist their best friend for life!"
Laurence points out that we must not only look at the stress of the dance but also at the physical imperfections most of us have.
"None of us are perfect physically even if we are in top medical condition. There's always something not quite balanced in our bodies so it's important that when starting out in the dance these are assessed from the outset," Laurence said.
"Our two halves are not the same, if you cut a person down the middle and then put the two same halves back together as a mirror, you will look like a completely different person, so there are always going to be imbalances. The body is not perfect by any means. Dance increases the stressed of the body depending on how passionate you are about your craft."
Laurence admits that most of the dancers he sees are at the beginning of their careers and does not treat professional dancers who he says usually only want to see a podiatrist to ensure they can dance that night by strapping them up or giving them the pain relief, they need to keep going.
"It's more inspiring for me to educate them while they are younger. These kids are hungry and want to do the dance whereas the professionals just want to get fixed, the young dancers are more interested in how they can work their body to prevent injury and improve the strength of their body and their feet," he said.
Dance is a great way to keep fit and there are very different forms of dance but for ballet it's going on pointe that can cause major injury so Laurence encourages dancers to stay off pointe as long as possible until they are really sure they want to be a professional.
"When the girls go on pointe that's when the key foot injuries so I encourage patients to stay off pointe as long as they can. As the male dancers don't go on pointe they don't suffer as much," he said.
Another problem long term dancers have is picking up habits like standing in the plie position which turns their toes out or standing like 'daisy duck' as Laurence puts it.
"This position puts stress on the hips, knees and lower back so I am constantly reminding my dancer patients to stand properly when they are not in the studio," he said.
"It's good to understand the positions of dance if you are treating dancers so you have an idea of what they are putting their bodies through during training and performance. I would advise podiatrists treating dancers to try and have a basic understanding so you can not only communicate on an equal level with your patient but also their instructor, who is often the person who will refer the dancer to the podiatrist," Laurence said.
On the other side of the coin is Podiatrist and former Australian Podiatry Association (NSW&ACT) board member, Abbie Najjarine, who has treated over 300 professional ballet dancers throughout his career. Many were from the Australian Ballet.
"The most common problems with professional dancers are foot, knee, hip and back pain, ankle sprains, bunions and clawed toes from pointe work. Pointe is always a female ballet dancer's goal so they get quite emotional about achieving it," he said.
An example Abbie gives of a particularly outstanding problem for a dancer was not being able to turn out from the hips to maintain the correct position.
"This young dancer's feet would turn out but the back swayed and her knees pointed straight, so her teacher brought her to me. It was clear she had external tibial torsion over 18 degrees (13-18 degrees is the ideal position) and had a measurement of 35 degrees to the outward position from the knee down. Her hips were also compensating by tightening the groin muscle (abductors and psoas), meaning from the knee down the shin was in an outward torsion and from the knee up, the femur was in an inward rotation," he explained.
"This caused knee, groin, lower back and stomach pain because the iliopsoas muscle not only rotates the upper thigh but also throws the pelvis forward and causes extra pull on the lower lumber, hence the sway back position. To fix the problem I prescribed frog stretches; in-toe tait plate orthotics to assist in correcting the external shin bone and metier the correction with gravity goniometer every three months. I also organised special slim design orthotics for her training ballet shoes," said Abbie.
The best advice both Laurence and Abbie can give to dancers is to stretch and keep the foot and ankles mobilised and strong, as well as working on posture outside of the dance.
Former ballerina, Olivia Schmidt, suffered foot problems continually while she pursued her dancing career and agrees her podiatrist became her best friend.
"In the height of my injury calamity I was sent to a podiatrist to find out what was wrong with my foot and she looked at me as a person rather than a dancer. As a person I had faults with my foot. Everyone else just looked at me as a dancer with a stress fracture but it was the podiatrist who said I actually had a problem with my feet, a bowed metatarsal, flat foot and a two year sprain," she said.
"The fact was I was just a normal person with a weak spot in my foot and by being a dancer, as my dancing became more full time, the weakness in my foot became a problem.
"From my point of view the physiotherapist and sports psychologists were only looking at my foot to maintain my ability to dance, but the podiatrist looked at my foot as a person, basically finding just a fault in my foot, and we worked from there to correct the fault so I could keep dancing," she concluded.
Originally published in the Australian Podiatry Association (NSW&ACT) member publication Footprints and written by Sharon Kelly.