Feetball – Don't Get Injured Due to a Foot and Leg Issue
Dr Abbie Clinics
May 11, 2018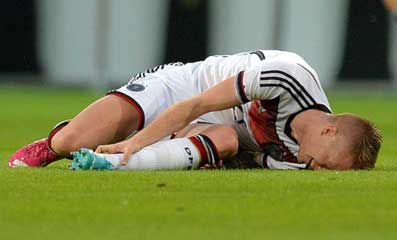 Synthetic Pitches – Are they bad for us?
In this day and age most of our junior and elite football players are training and playing more regularly on synthetic pitches. This raises the question, are we sustaining more injuries from playing on them compared to natural grass?
The evidence is inconclusive with many studies showing no major differences in the incidence, severity and nature of injuries.
However with artificial turf being made much more harsh, hard and flat then natural grass, the theory of increased ground reaction forces through your body with no change in the design and function of football boots has correlated Steffens study in 2007 where young female footballers had a higher risk of ankle sprain when playing on artificial turf.
How to reduce ground reaction forces?
For "synthetic pitches" we talk about the increased ground reactions forces associated with playing on artificial turf compared to natural grass. New football boots have not changed in design or function to accommodate for this new artificial ground. So how can we reduce ground reaction forces if our boots haven't changed? The answer is with orthotics.
Orthotics are corrective medically prescribed innersoles designed to support, control and align the foot whilst correcting mechanical issues from the feet up; treating the cause. Use of Orthotic therapy is an excellent treatment regime as it will realign the biomechanical structure and control the excess pronation of the foot, eliminating the traction pull that occurs at the muscles. Orthotics will also stabilise the body and reduce tension on joints reducing muscular fatigue in the process.
Did you know?
Lionel Messi and Cristiano Ronaldo both have a leg length discrepancy meaning they have one leg shorter then the other! This places much more pressure and pain on joints such as knees and hips.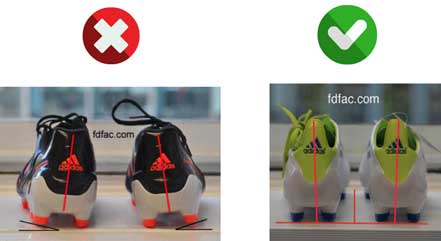 Features of a good soccer shoe
A main feature of any shoe is that from behind it isn't rolling in like our shoe on the left. This is automatically put our foot in a pronated (turning in) position which will place more stress on our ankles, rotational stress on our knees and hips causing injuries and will also make us lose our running edge on opponents.
A good shoe should have a neutral alignment from behind, have a sturdy mid shank, bend only at the toes, has a strong heel counter and lace up high to the ankle to support the foot in full.
Podiatry for Soccer Players
Here at the Australian Orthotic Laboratory (AOL) at Dr. Abbie Clinics we have a podiatry team who have seen a lot of elite athletes in terms of soccer, NRL, rugby, cross-fit, with all types of sports injuries and can help you get to the bottom of your pain.
We have a special interest in biomechanics and are determined to fix the root cause of the problem.
What we can do for you?
What we do is:
•    Assess and find the root cause of any pain of foot issues
•    Offer advice of how to avoid future injury
•    Come up with a treatment plan tailored to your needs to support your health