Happy Holidays 2019
Dr Abbie Clinics
December 23, 2019
News
Happy Holidays ever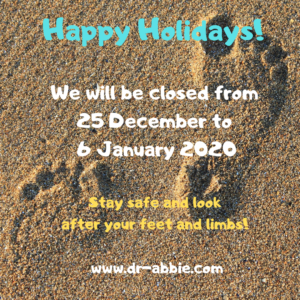 yone!
This is to advise that our clinics will be closed from 25 December to 6 January when we reopen.
In the meantime you can email us at reception@dr-abbie.com if you have any requests you need addressing as soon as we're back or you can click on the Contact or Book an Appointment button on the website.
Have a safe break and look after those feet and lower limbs! See you in 2020.